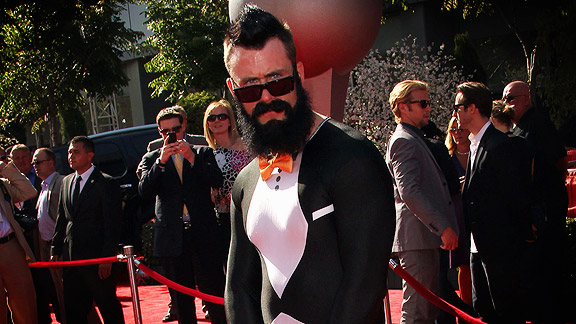 Frederick M. Brown/Getty ImagesBrian Wilson wore a skin-tight suit to the ESPYs. Now baseball needs that.
Were you watching the ESPYs, Commissioner Bud Selig? You should have been because Brian Wilson showed us how to save baseball's All-Star Game.
One word, Commissioner: Embarrassment.
Clearly that was why Wilson chose to walk the red carpet wearing a skin-tight, one-piece Spandex tuxedo. He was taking a bullet for baseball by showing us how embarrassing it would be to go to work like that every day -- even without the beard.
So forget winning home-field in the World Series. Everyone knows that only helps the Red Sox or Yankees in the American League -- and the Yankees still don't show up for the All-Star Game anyway. In the National League it can help Philadelphia or maybe Atlanta but the Braves will choke even if they do get home-field.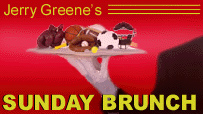 So create a situation that threatens everyone -- losing league must wear Spandex for the rest of the season. And that includes the managers, which would really be a sight to see -- or not.
One more thought: The Commissioner wears Spandex no matter which league wins. After all, you did say you would be retiring soon, right?
Now a few more notes from the week that was before moving on to the Brunch's main courses prepared by some of our best:
• My apologies if this is late appearing on Page 2. I'm still stuck in traffic outside the Kentucky Speedway.
• Hey, Roger Clemens, nobody is watching -- go ahead and laugh.