If you know your NHL Draft history -- or are a Buffalo Sabres fan -- then you know the name Taro Tsujimoto.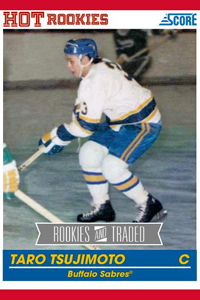 Courtesy of ScoreTaro Tsujimoto isn't real but he now has a real card.
He's the real-life 183rd overall pick of the 1974 NHL Draft. He's got a brand new card in the 2010-11 Score Rookies & Traded hockey set from Panini America.
And the catch? He's not not even real.
The NHL's version of Sidd Finch was a real-life punchline of Sabres GM Punch Imlach 37 years ago when the draft was plodding along at a snail's pace. When his team's spot came up in the 11th round, he picked a mysterious prospect in Taro, the center for the Tokyo Katanas -- all fiction.
But the card is real, and it can be found as a bonus in every 20th set of Score Rookies & Traded.
"The creative team was looking to come up with something special, something really unique," said Al Muir, Panini America's Hockey Brand Manager. "The legend of Tsujimoto is one of those great hockey stories that has been perpetuated not just in Buffalo, but around the game. It's one that gets told to this day in dressing rooms and on bar stools."
The crazier part of this story that might make you fall off of your bar stool? The card is selling and selling well. It's fetched as much as $49.99 on eBay with the lowest sale checking in at $19.50. Most of the twenty-some other auctions ended in the $30-40 range.
Not bad for a guy who doesn't exist ...