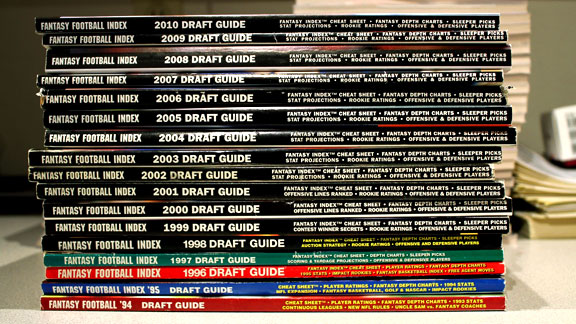 Courtesy of Bruce Taylor Fantasy Football Index won't publish its annual preview magazine for the first time since 1987.
If this were a normal summer, Texans running back Arian Foster would be peering at you from the cover of Fantasy Football Index magazine at newsstands and supermarkets across the country. But not this summer. The NFL is locked out, there is no Fantasy Football Index on the news racks and this is how the whole miserable situation feels to co-owner Bruce Taylor: "There's a locomotive that may hit me or it may not. We're tied to the train tracks and Dudley Do Right is nowhere in sight. Will the train stop? I hope so."
All the signs point to the train stopping with a contract settlement between the owners and players soon (perhaps this week) but then again, if logic entered into the equation, the owners never would have locked out the players in the first place. They did, however, which meant Taylor and partner Ian Allan did not publish Fantasy Football Index this year, the first year the magazine hasn't been published since Taylor and Allan started it in 1987. Allan said they just didn't feel comfortable putting out a magazine when there were so many roster unknowns.
"We made the decision probably the third week of May, for a number of reasons," Taylor said. "We printed 430,000 magazines last year. When you print 430,000 200-page magazines, that's a lot of paper. That's multiple train cars of paper. And it has to be specially milled for you. It's not like guys have multiple train carloads of paper sitting around for you to buy. So there are all sorts of questions. Are they going to solve this? And when? How long will they have to sign free agents when they get it solved? Will there be enough time to get the magazines printed and in the stores?"
Other magazines dealt with the issue as best they could as well. A couple published as usual. ESPN is not publishing its fantasy magazine this year. RotoWire has a 2011 magazine but it is not available on newsstands and must be special ordered. "This cottage industry has really gotten beat up by the NFL," Taylor said.