When Topps announced that it had reached an autograph deal with Filipino boxing star Manny Pacquiao back in March, the company -- and more than a few collectors -- figured they had a hit on their hands.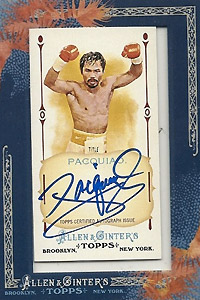 Courtesy of ToppsManny Pacquiao's Allen & Ginter autograph card has sold for more than $800 last week.
But they may not have expected a card that hits this hard.
The first certified autograph (signed only to be inserted into packs) inked by the former WBC Super Welterweight champ can be found in packs of the newly released Allen & Ginter baseball cards, which arrived last week. Autographs can be found one in every 68 hobby packs, meaning you'll need some luck to land the fighter and not the likes of Oakland A's pitcher Gio Gonzalez or Rangers slugger Nelson Cruz.
Or, if you're not feeling lucky, they can be found for several hundred bucks on eBay -- and that's where he's packing some punch.
The first auction for a signed Pacquiao card sold for $575 via a Buy it Now offer last Wednesday -- but it's escalated from there.
Two more copies sold for $750, while a third copy sold for $849 last week.
Meanwhile his Relic -- a card with a piece of his trunks embedded into it -- has fetched as much as $215 on the auction site, while of the four one-of-a-kind printing plates made for Pacquiao's regular card in the set ended at auction at a cool $1,000 on Sunday.
Sounds like he's just getting warmed up.