If you've ever wanted to get your hands on a baseball player's game-used cap, batting gloves, helmet, autograph or other memorabilia, you now have a chance every weekday until Oct. 25 -- just by getting on Twitter.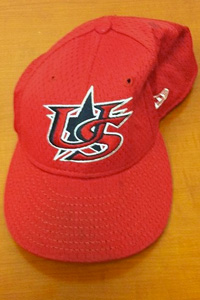 USA Baseball A cap used by Colorado Rockies star Troy Tulowitzki will be given away to one Twitter follower of USA Baseball.
USA Baseball (@USABaseball) is giving away actual game-used memorabilia from some of the game's biggest young stars and prospects as part of its Nine Innings of Summer promotion, which launched last month.
"We have collected game-used, authenticated and autographed memorabilia from alums from all of our National Team programs over the years for use not only in trading cards, but also for auctions, donation items and other uses," Jake Fehling, USA Baseball's director of media and public relations, told Beckett Baseball magazine in its latest issue. "We felt like taking some of the autographed and game-used items we've collected from our alums and [giving them] to our followers through Twitter would be an effective way to not only build our online social networking presence, but to also continue to get the USA Baseball brand into our fans' hands."
And all fans have to do is follow USA Baseball on the social media platform and follow instructions that are posted once a day. One recent challenge meant all you had to do was re-tweet a message to win a pair of batting gloves used by Cincinnati Reds outfielder Drew Stubbs. If you were the 40th person to re-tweet the message, you won. It's that simple. Other recent prizes have included a Bryce Harper (you might have heard of him) autographed bat, a cap worn by Dodgers starter Clayton Kershaw and a bat used by Kansas City Royals outfielder Alex Gordon.
And there's plenty to come between now and Oct. 25.
"So far, the response has been extremely positive," Fehling said.
Each weekday a prize and task will be tweeted between 2-4 p.m. Eastern with specific instructions on how to win.