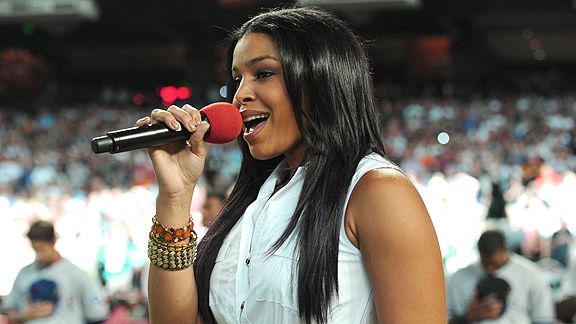 Richard Pilling/MLB/Getty ImagesJordin Sparks is the voice of the WNBA this month, but football is her No. 1 sports passion.
Pop star Jordin Sparks is no stranger to sports. Her father, Phillippi Sparks, played in the NFL for nine seasons, and her brother also plays football. The 2007 "American Idol" winner enjoys being active on the field and being a fan on the sideline. Sparks' new single, "I Am Woman," is serving as the soundtrack for ESPN's WNBA coverage during July. EspnW caught up with the 21-year-old shortly after she performed the national anthem at the MLB All-Star Game in her hometown of Phoenix.
espnW: Your father and brother both play football. Tell us about your relationship with sports growing up.
Jordin Sparks: From ages 1 to 10, I didn't really understand it. I didn't start becoming obsessed with football until my dad's last year in the league, and then I was so sad when he retired. But I love football. My weekends are booked. Saturday college games and Sunday NFL and "Monday Night Football." Booked! Football is first, then basketball and then everything else.
espnW: You participated in the MLB All-Star celebrity softball game in Phoenix this year. What sports do you play?
JS: I played softball and basketball growing up. I really wanted to play football but both parents said no. I was mad for a second, then got over it. Now, just because I'm tall doesn't mean I can play basketball. I was waaaaay better at swinging a bat.
espnW: ESPN is using your new single, "I Am Woman," as the soundtrack for its WNBA promos in July. What was your response when you first heard about this?
JS: I looked at my friend and I said, "Reeeeeally?!?!?!?" When I got the song, one of my first thoughts was, "Women's shows, sports and this song go hand in hand." I'm so excited they're using it.