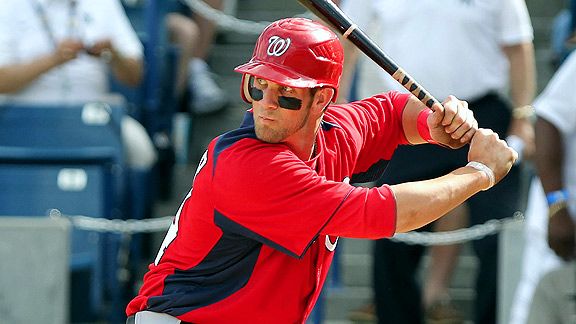 Kim Klement/US PresswireBryce Harper can't wait to see himself in a future version of "MLB: The Show."
Bryce Harper, "MLB: The Show" coverboy?
I know, I know, he's still in the minor leagues, but the sweet swinging prospect and video game fanatic showed up inside the PlayStation booth at the MLB All-Star Fan Fest in Arizona and the reaction was off the charts. Not only did Sony present the Nationals top prospect with a customized, laser-etched red PlayStation 3, but they did it in front of a shocked group of gamers who went from playing "MLB 11: The Show" in 3-D one second, to seeing the top prospect in baseball geek out over his new system the next.
"This system is unbelievable. I don't even want to play it, I think I'm going to hang it on my wall," Harper told me with a wide, kid-at-Christmas-type grin. "I'm a gamer, so for Sony to give me something customized like this, it really means a lot. Besides, one of my goals is to be on the cover of 'The Show' one day. That's what every player wants. That's what you dream about as a little kid, to be in a video game and to be on the cover. Now it's up to me to go out and perform well enough on the field to make that happen. Everyone wants to break into the entertainment part of the world, and what better way to do it than through this video game."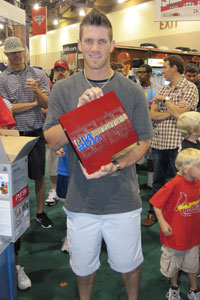 Harper gets a new PS3.
I'm thinking "MLB 13: The Show" is a safe bet. Especially after Harper continued to break down his love of video games to me at the booth.
"I love the PS3 and especially 'MLB: The Show,'" he said. "That's the main game with all of the guys on our team right now. I actually created my own guy in the game and my character is in Double-A right now. I'm just trying to work my way up and get to The Show. It's funny because we all talk about the game in the clubhouse. One of my buddies was just telling me how his guy got a cup of tea in the Majors, but now he's back down to Triple-A. It's really cool because everything in the game seems so real."
Talk about video games imitating real life. Just like his character in "The Show," the real Harper also finds himself in Double-A doing everything he can to make it to the Nationals.
"I just can't wait to see my character in the game once I finally get called up," Harper told me. "I hope they give me a nice swing and my speed is above average and they have my arm strength up. It will be unbelievable to actually see myself up on the screen and know people are playing as me."
But "The Show" isn't the only game Harper's busy playing when he's not ruining a pitcher's night. "I love 'Call of Duty' just like everybody else," he said. "'NCAA Football' is another big one along with 'NBA 2K11' and 'Killzone.'
"We play in the clubhouse all the time. We're all competitive, so once we start playing, our competitive nature jumps out. And for me, that's what it's always been like. I started with 'Mario Kart' on Nintendo then worked my way up to 'MLB Slugfest' to the games I'm playing now like 'The Show.' Like I said, it's always been a goal of mine to not only be in the game, but to be on the cover. That would just be awesome."
Until then, he always has his new customized PS3 to help him get his character to "The Show" before he does in real life. If he doesn't frame the system on his wall, that is.