PITTSBURGH -- Ben Roethlisberger got the privacy he wanted for his wedding Saturday, with police providing tight security around the church in affluent Ohio Township where he and Ashley Harlan were married and tinted windows on expensive cars leaving much of the guest list a mystery.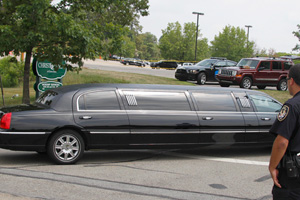 AP Photo/Keith SrakocicGuests arrived at Ben Roethlisberger's wedding Saturday under a cloud of secrecy, in limos and buses with heavily-tinted windows.
Still, the hope of a glimpse at the Pittsburgh Steeler quarterback, his new bride and the dozens of team luminaries who turned out for the ceremony was enough for Dolly Metz to sit in a car -- complete with Steelers covers on the headrests -- in a nearby parking lot with the windows down in 90 degree heat.
"This is the best part of my day," said Metz, who lives in McKees Rocks. "I know he was supposed to send a limo for me too, but it broke down."
Metz and friends Eugene and Carol Lovely were among a small group of Steeler fans who tried to show their support for Roethlisberger.
The organization was well-represented too despite the NFL's ongoing labor dispute.
Owner Dan Rooney waved to security officials on his way inside and guests included linebacker James Harrison and former Pittsburgh running back Jerome Bettis.
Harrison entered in a rare Mercedes sedan, according to police, his presence perhaps proof there was no fallout from his criticism of the quarterback in a "Men's Journal" article released last week.