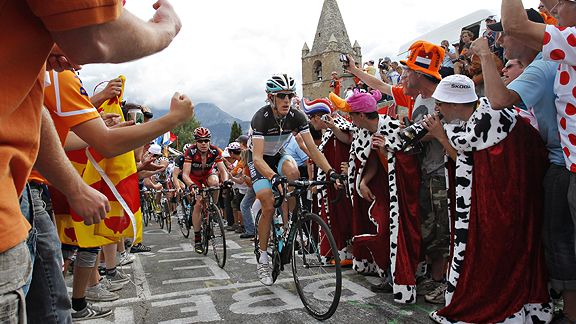 AP Photo/Christophe EnaLance or no Lance, the performance of riders like Andy Schleck will keep fans coming back for years.
In last week's column on the Tour de France I mentioned that the Tour is an acquired taste. What I didn't mention is that the Tour must also first be acquired.
This is much easier since Versus began broadcasting the Tour nearly as often as other networks show "Law and Order." When I'm at home, I'll spend most of the day watching one replay or another ... or all of them. It gets more complicated when I go on the road, which I must because baseball insists on holding the All-Star Game during the Tour.
I consider myself very fortunate when I stay at a hotel that gets Versus and the Tour on its cable package (I distinctly remember watching Floyd Landis' epic 2006 ''steroid'' ride in a motel room in Asheville, NC) because most don't. That's why I subscribe to the internet Tour package that allows users to watch the Tour on-line whenever you want. This came in very handy during the All-Star festivities in Arizona, allowing me to show my fellow seamheads the Juan Antonio Fletcha and Jonny Hoogerland accident with the French TV car. (You never see cars striking athletes in baseball, or at least not since they got rid of the bullpen cart.)
I was depending on this Saturday when I was in Cooperstown to cover the Hall of Fame induction. Immediately after a press conference with the new inductees, I returned to the press room (the Cooperstown high school cafeteria) and logged on to watch the replay of the Stage 20 time trial that would determine whether Andy Schleck or Cadel Evans would win the Tour. And all went well. I watched a couple early riders then jumped ahead to the Evans' start.
The problem was the replay suddenly jumped ahead a couple minutes to when Schleck was already on the course. I thought that was weird but figured I had just gotten distracted and missed it somehow. Then the replay suddenly jumped ahead another 10 minutes. And then it jumped ahead 45 minutes to a post-race interview with Tony Martin. No matter how many times I restarted the video or rebooted the laptop, the video always jumped ahead at the same precise spot. I checked the replay repeatedly over the next couple hours and it was always the same. One moment Evans and Schleck are locked in epic competition, the next we have a talking head at the end of teh race.
In other words, the replay showed every moment of the stage ... except for the most important 55 minutes that I wanted to see.