Sports fans might not have realized it, but gold hit a record high last week at $1,602.10 an ounce.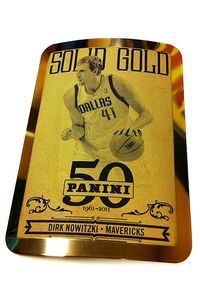 Courtesy of PaniniDirk Nowitzki's "Solid Gold" card is made of 11 grams of 14-karat gold and will go to a collector who finds a ticket inside a pack of cards.
But for Panini America, that news was priceless.
Why? The Texas-based exclusive manufacturer of NBA trading cards launched a new product last week named 2010-11 Gold Standard.
You'll never guess what its theme is.
Each $200 box looks like it's a gold bar. Inside each "bar" are 13 cards and in some boxes that will include a golden ticket of sorts for a card made of solid metal. Each one of these one-of-a-kind "Solid Gold" cards is made up of 11 grams of 14-karat gold (that's $330 or so value alone, melted down). If you're not that lucky, you might find a card with merely a small chunk of gold embedded into it. They're found one in every 10 boxes from a sealed case.
There are just 50 of the all-metal cards to be found -- if you want LeBron James' the redemption card for it will cost you $7,500 right now on eBay -- while there are more than 2,000 of the "Gold Rush" cards with just a chunk of gold placed into it out there to be found.
If one doesn't find either type of precious metal card, each of the regular cards found in every Gold Standard pack -- along with all of the autograph and game-used memorabilia cards -- are printed on lustrous gold-foil surfaces so each and every card has a feel that would make Johan van der Smut proud.
While this is the first product line Panini has dedicated to the aesthetic, it's not the first trading card release from the company to include cards made of solid gold. In the last year, it has included gold cards in its Playoff Contenders football and hockey sets. Cards from those releases have sold for more than $3,000 and $2,500 respectively.