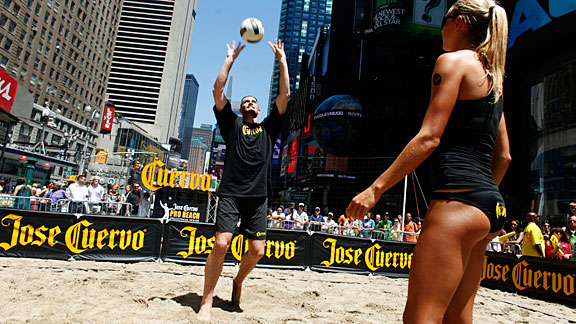 Jason DeCrow/AP Images for Jose CuervoKevin Love and beach volleyball pro Jess Gysin practice in Times Square after Love's announcement.
Minnesota Timberwolves All-Star Kevin Love is wasting no time finding another paycheck and sport during the NBA lockout. Jose Cuervo is sponsoring Love for volleyball's biggest tournament of the year, the Manhattan Beach Open, on Aug. 26, announced Tuesday at a makeshift volleyball court in the middle of Times Square.
Love has serious beach credentials. He's the nephew of Beach Boys star Mike Love, grew up in Santa Monica, Calif., and graduated from UCLA. And while he still needs to qualify, which he'll attempt at a volleyball tournament Friday, Love says he's up for the challenge. He spoke to Page 2 at the announcement:
What made you decide to try to qualify for the Manhattan Beach Open?
It was just a fun thing that kind of came my way. Jose Cuervo presented me the opportunity to play in their Pro Beach Volleyball Series and for me it was a home run. It's a way for me to stay active and an excuse to get in the sun and just keep my competitive juices going with no basketball. Obviously, I'm playing and still working on my craft, doing the yoga, doing the strength conditioning and being on the court. One way to stay active is to get in the sun and play volleyball, so what better way than to be on the beach and do it?
How are your volleyball skills?
Other than just bumping it around with friends, I never really played too seriously. It will be really fun to get serious with it and try to compete as best as I can. It would be great if I ended up making the tournament and really having some success with it.
You have the jumping part down.
Definitely. A lot of the same intangibles so for me being tall and long and athletic and being able to play the net and being able to jump, there's so many things that go along with it.
How do you feel right now about the uncertainty in the NBA?
I'm pretty confident with it. The NFL, they came to an agreement. They kind of laid the groundwork for us. Hopefully we can come to an agreement and not miss any time like them. I'm pretty confident that we'll get this thing resolved and hopefully come out on top as players.