Pilar Lastra might be a pretty face, the Playboy Playmate of the Month for August 2004 and host of a radio show on SiriusXM.
But she's also a whiz at fantasy football.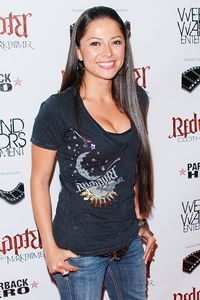 Getty ImagesIt's probably not too surprising that NFL players call Pilar Lastra with tips.
"I'm a five-time champion. I have some street cred. I know what I'm doing," said Lastra, who will take part Thursday in the second annual SiriusXM Celebrity Fantasy Football Draft. "It's brutal because I'm the only girl and the boys don't hold anything back. But they need to remember, my team name last year was 'In Your Face' so I can give it right back to them."
This year's draft will feature 12 teams that will be managed by celebrities and personalities such as WWE superstar Mike "The Miz" Mizanin, New York Giants lineman David Diehl and Alice in Chains' Jerry Cantrell, among others. SiriusXM NFL Radio's Adam Schein and Rich Gannon, a 17-year NFL quarterback and the 2002 NFL MVP, will emcee the event, to be aired nationwide on both SiriusXM Fantasy Sports Radio and SiriusXM NFL Radio.
Lastra isn't intimidated by anyone in the league, which fans can follow at the fantasy sports radio site. The 30-year-old model from Texas has always been a football fan and has many NFL players calling her with advice on who to pick.
"I knew how great Arian Foster would be before anyone, because some of his Houston teammates told me he was going to break out," she said. "The same was said about Wes Welker when he first got with the Patriots a few years ago."
So who are her surprise picks this year?
"What time are you posting this piece?" Lastra said. "I can't tell you if you post before our 11 a.m. draft!"