As with any NASCAR race, it's easy to pick your favorite with this DIRECTV Head 2 Head Knockout Program.
"The M&M'S car," said Kyle Busch, who is promoting the contest. You'd better believe it, man.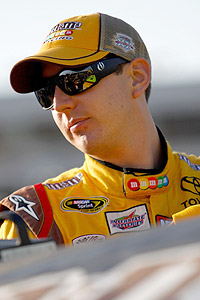 Jeff Zelevansky/NASCAR/Getty ImagesKyle Busch knows who he's got in his Head 2 Head knockout pick.
This is the NASCAR version of those "knockout" brackets some guy in the office always brings around for, ahem, entertainment purposes only. Similar premise. NASCAR Sprint Cup drivers are paired up, starting with an opening field of 32. You pick who you think will finish ahead of the other, four weeks, Pocono to Bristol. Winners survive and advance.
(Luckily, it's the drivers that are knocked out. Pickers are judged on points accrued by correct answers.)
You've got until Aug. 7 to get your brackets in, at directv.com/nascar. You've got to be registered at ESPN.com or an affiliated site in order to play.
"It brings a new level of excitement to the drivers," Busch said.
The head-to-head matchups add an edge. Last year, there was buzz in the pits when Bobby Labonte knocked off Jeff Gordon in the first round. This year, Joey Logano is paired up with his fellow Home Depot driver, Tony Stewart.
"I've got David Reutimann first," Busch said. "So I've got to finish ahead of David Reutimann."
Wait. Reutimann? He's got a giant cartoon dog on his car. This changes everything.
But mostly, it's that DIRECTV, through the contest, donates almost $500,000 toward driver charities. Busch's is his foundation, which helps fund several children's homes for kids who need a better place to call home.
Fans, however, can win up to $1 million for a perfect bracket. Merely finishing first is good enough -- a full-size truck from the winning driver's manufacturer.
The drivers don't really incorporate this contest in their strategy, do they?
"If you can win all those races it certainly makes it easier on yourself," Busch said.