LOS ANGELES -- Curren Caples is in need of new clothes. It's an odd predicament for the 15-year-old skating wunderkind to be in considering he's sponsored by more companies than a NASCAR driver. Yet here he is, standing above the X Games Skateboard Park across from Staples Center, trying to find something fashionable to put on his 5-foot, 85-pound frame before he goes for a practice run.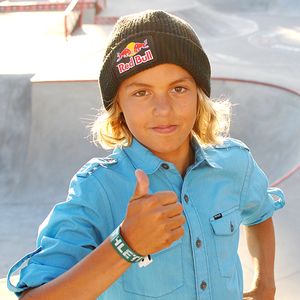 Jared Ross/ESPN.comFifteen-year-old skateboarding phenom Curren Caples, who burst onto the scene at last year's X Games, hopes to continue his rise this year.
It isn't long before Caples is sifting through two boxes of clothes he has just gotten from Hurley, which sent an assortment of jeans and shirts for this Justin Bieber on wheels who elicits similarly deafening shrieks from adolescent girls when he performs.
"I haven't gotten clothes in a while," he says, pulling out a pair of black jeans and a red shirt. "I needed this."
While Caples is busy picking out what he'll wear, his parents, Evan and Shelly, sit next to him, still somewhat amazed that their little boy has been hailed by some as the next big star of skating.
"It's mind-blowing what he's able to do," Evan said. "It's really an amazing thing to watch."
Evan and Shelly Caples knew Curren was different before he could even crawl. That's partly because neither can remember him actually crawling. It was almost as if he skated out of the womb and did a frontside air on his crib.
"We had to teach him to go up and down the stairs when he was a year old. He walked super early, he never crawled," Shelly said. "He walked way before he was a year old. He was always so coordinated. Any baby locks, forget it. He would figure it."
Evan's appreciation for his son's ability to walk and balance himself at such a young age was slightly different than his wife's. Evan was a professional surfer, who regularly skated and owned Momentum Ride Shop, a surf and skate store near their home in Ventura, Calif.