LOS ANGELES -- It's about 80 degrees every day here for X Games 17, but snowboarder John Jackson is feeling right at home.
"I'm just here to support action sports, no matter what it is," said Jackson, who was signing autographs Thursday at the Red Bull tent. "I love coming to these events and encouraging my friends."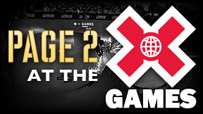 Jackson, 27, also is in town to promote his latest film, "The Art of Flight," which will be released in September. The movie follows Jackson, Travis Rice, Mark Landvik, Scotty Lago, Jake Blauvelt, Nicolas Muller, Gigi Ruf, DCP and Pat Moore as they dream up new global adventures and progress the sport of snowboarding.
"We really are trying to raise the bar for the sports so everyone can see it," said Jackson, who lives in Truckee, Calif. "There are so many things we can do that you can't even imagine."
From the producers of "That's It, That's All," Jackson and his team worked with Brain Farm and filmed on location in Jackson Hole, Wyo.; Alaska, Chile; Aspen, Patagonia; and British Columbia.
And now he's in town to sign autographs and promote the film.
"Being a winter sports guy, I didn't really know what to expect, but I'm really feeling the love from these fans," Jackson said. "I love giving back to them, too."