Welcome back to another edition of Page 2 Jeopardy!, the quiz that tests your knowledge of sports, pop culture and assorted trivia. Please remember to phrase your responses in the form of a question.
(Correct questions at the end of the quiz.)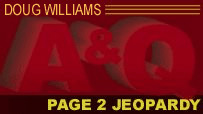 1. Answer: This NFL defensive end (not named Goldilocks) says he came home to his apartment to find a housekeeper had been sleeping in his bed, eating his cake and using his bathroom.
2. Answer: At age 35, this former 'Golden Girl' was waived by the Tulsa Shock of the WNBA to make room on the roster for Abi Olajuwon, daughter of Hakeem.
3. Answer: This longtime action hero, who's been called "a comfortable blanket we can all put on," was his Illinois high school radio station's first sportscaster.
4. Answer: He was the last teenager to homer in a big-league game before 19-year-old Mike Trout of the Angels did it this week.
5. Answer: "It's strange that I could become a professional athlete," says this 34-year-old, now at the pinnacle of his sport, citing his lack of speed and size.
Question 1: Who is Adewale Ogunleye?
Question 2: Who is Marion Jones?
Question 3: Who is Harrison Ford?
Question 4: Who is Justin Upton?
Question 5: Who is Cadel Evans?