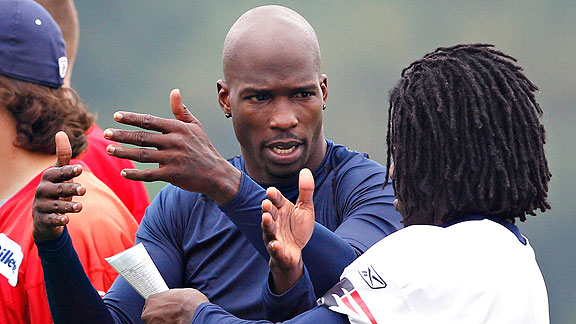 AP Photo/Charles KrupaChad Ochocinco talks with new teammate Deion Branch during Ocho's first workout as a Patriot.
Chad Ochocinco is currently Chad Sin Número, as the newly acquired Patriot must contend with tight end Aaron Hernandez for uniform No. 85.
And according to TMZ, Chad will pay anything for it.
Of course, this isn't the first time athletes have bargained for numerals. Here's a look back at some of the best:
Chris Kluwe vs. Donovan McNabb
Just days ago, the Vikings punter tweeted his terms for sending the No. 5 to McNabb: "It's his," Kluwe wrote, "BUT he has to promise to mention [my band] Tripping Icarus in at least 5 press conferences."
Jimmy Clausen vs. Cam Newton
Clausen has No. 2, but could give it up to the No. 1 pick (Newton just might be interested, too). No word on a price -- if there is any -- but Clausen probably could come up with one. Does $180,000 sound about right?
Jeff Feagles vs. the world
In 2004, the ex-Giants punter tranquilly sent No. 10 to Eli Manning (reported price, read in Don Pardo voice: a one-week paid family vacation in Florida!). But last year he reportedly said he got stiffed by Plaxico Burress for No. 17, as Burress was supposed to pay for construction of an outdoor kitchen at Feagles' home in 2005.
Clinton Portis v. Ifeanyi Ohalete (note: an actual court case)
In 2004, Portis and former Washington safety Ohalete reportedly agreed to a $40,000 payment (in installments), but Portis quit sending checks when Ohalete was cut the following year. Still owed $20K, Ohalete filed suit, but things got settled just before they went before a judge. All for the No. 26.
In happier news ...
In 2007, Houston Texan Jason Simmons asked for one thing from Ahman Green for the No. 30: a down payment on a home for a local single parent (and Green made good).
Darius Heyward-Bey vs. the NFL
From the did-you-know file … if a player wants to change his number, he must buy out all his surplus replica jerseys from the league. The Raiders receiver did just that last year, when going from 12 to 85. Ochocinco faced the same issue when he changed his name in 2008.
Talk about inflation
In 1989, Rickey Henderson reportedly sent some golf clubs and a suit to Ron Hassey of the Oakland A's for the No. 24. That same number four years later cost Henderson $25,000, to Toronto's Turner Ward. Of course, if those were 1990s Canadian dollars, Rickey might actually have gotten a steal (sorry about that pun).
What's a number among friends?
Finally, Phillies outfielder John Kruk missed a major opportunity back in 1991. Or, depending on your perspective, he cashed in big. Mitch Williams gave Kruk two cases of beer for the No. 28. The best part, as Kruk later told David Letterman two years later: "He got divorced, he wears number 99, and the two cases of beer are gone."