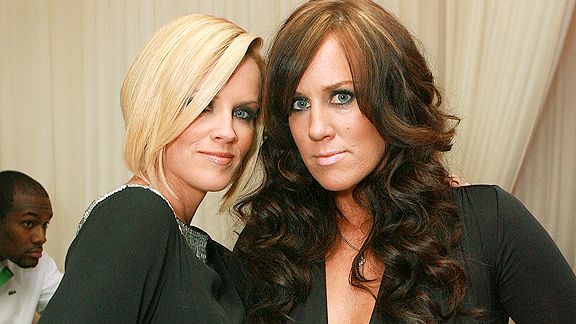 Jordan Strauss/Getty ImagesJenny is so proud of sister Joanne McCarthy, who is playing in the Lingerie Basketball League.
When JoJo McCarthy, sister of actress and 1994 Playboy Playmate of the Year Jenny McCarthy, saw the outfit for the Lingerie Basketball League, her first thought was: "I need to call a trainer and get on 'Weight Watchers.'"
"I didn't care what I was having to wear. I wanted to play again," said McCarthy, who played hoops at Illinois-Chicago and in the now-defunct American Basketball League. "I saw this as a great opportunity to get back into shape."
McCarthy was drafted in the fifth round of the 1998 ABL draft by the Chicago Condors, but the league ultimately couldn't compete with the WNBA and folded in December 1998.
"It was like basketball was taken from me," said McCarthy, one of four sisters. "I wasn't done. I wanted to be an 80-year-old playing until I couldn't walk anymore."
So McCarthy tried out for two WNBA teams -- Los Angeles and Utah -- but didn't make the cut, so she started pursuing her other passion: makeup.
McCarthy moved to Los Angeles -- "My sister Jenny wanted me to visit for two weeks and I never left," she said -- and has been a makeup artist for many celebrities.
But she still had the itch to do something athletic.
"I know everyone thinks California is about exercise, but I couldn't find any basketball leagues to join," McCarthy said.
So McCarthy started playing lingerie football a few years ago. This year, she's getting in on the ground floor of the Lingerie Basketball League.
And people are starting to notice. Gossip website TMZ posted a video Monday about Jenny McCarthy watching her sister play.
"Basketball is like my first love, and this has meant more to me than I thought," JoJo McCarthy said. "I'm doing my boot camp. I'm eating six meals a day. I'm doing accupuncture. I love this game so much."
And older sister, Jenny, is proud.
"These girls are badass ballers and add entertainment and femininity to the sport," Jenny McCarthy said. "I love it."