Welcome back to another edition of Page 2 Jeopardy!, the quiz that tests your knowledge of sports, pop culture and assorted trivia. Please remember to phrase your responses in the form of a question.
(Correct questions at the end of the quiz.)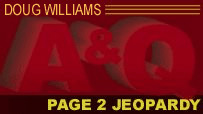 1. Answer: He plays in the band Tripping Icarus, is an avid "World of Warcraft" player, kicked a 60-yard field goal in high school and has punted for six seasons in the NFL.
2. Answer: Last year, Rowdy Hardy beat out Seth Schwindenhammer in this contest, which this year includes such names as Shooter Hunt, Forrest Snow and Maverick Lasker.
3. Answer: She's played for the same WNBA team for 11 years and just signed a three-year extension, saying of her city: "It suits me down to the ground. The people are eclectic and kind of crazy and I just fit in here."
4. Answer: Special teams will now be referred to as "we-fense" on this NFL team -- woeful in that area in 2010 -- because, says a coach: "We've got a linebacker next to a tight end next to a safety next to a running back. We're all connected by a rope and accountable to each other."
5. Answer: An almost all-purple floor is one option in a Facebook poll that will help this university decide which design to use for its basketball court.
Question 1: Who is the Vikings' Chris Kluwe?
Question 2: What is minor league baseball's "Moniker Madness"?
Question 3: Who is Seattle's Lauren Jackson?
Question 4: Who are the San Diego Chargers ?
Question 5: What is Northwestern?