Shawn Kemp walked in and sought out his former point guard Gary Payton for a hug. Jack Sikma and Gus Williams commiserated about their golf games. Payton and Detlef Schrempf mentioned how, a few years into retirement, they no longer even play basketball recreationally. Everyone discussed what good shape George Karl is in a year removed from his battle with throat cancer and swapped stories from the old days.
In nearly every respect, the gathering of Seattle SuperSonics legends that took place last Friday, July 29, was a typical reunion. One thing, however, was off. Instead of being held on a basketball court, this celebration of the Sonics took place at Safeco Field. While the 1978-79 championship team once played in the Kingdome, once located a long home run away from Safeco, no hoops have ever been played at the home of baseball's Mariners.
"It's a little different," admitted Kemp.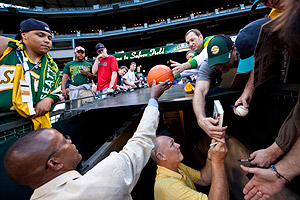 AP Photo/John FroschauerFormer SuperSonic Dale Ellis, left, and coach George Karl, center, sign autographs before the Seattle Mariners' game against the Tampa Bay Rays in Seattle on July 29.
Why Safeco? The short answer, as former voice of the Sonics Kevin Calabro told the crowd during the pregame ceremony that took place on the field, is that the Mariners wanted to honor their former professional peers in the spirit of keeping the Sonics' legacy alive.
The more complex explanation is that events like Friday's represent the hidden cost of franchise movement. Nobody owns Sonics history, a concept that sounds funny enough when applied to stats and records and becomes far stranger when it refers to actual, tall humans.
Technically, the Sonics' 41-year history in Seattle followed the team to Oklahoma City, which is why there was briefly a firestorm this spring when the Thunder's playoff victory over the Denver Nuggets was referred to as the team's first since 2005, when the Sonics beat the Sacramento Kings. (TNT's Charles Barkley, for one, wasn't having it, boosting his popularity in the Emerald City.) Most Oklahoma City fans don't want that past. They're not disrespectful of it, just cognizant of the fact memories can't be packed in a moving truck.
So it is that the tangible aspects of Sonics history, like the 1979 championship trophy, remain in Seattle at the Museum of History and Industry. And so it is that the Mariners were about the only group that could have put together the largest group of Sonics legends ever assembled.