If you've noticed more "truthiness" in Major League Baseball's Twitter posts than usual, there's a good reason. Stephen Colbert has taken over MLB's Twitter account.
The host of "The Colbert Report" is veering away from the around-the-majors updates, highlights and league-related notes that the folks at @MLB typically post.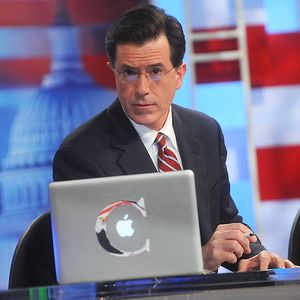 Brad Barket/Getty Images for Comedy CentralStephen Colbert injected a dose of truthiness into the MLB Twitter feed.
Take this insightful observation: "Pro Tip: If you're taken out to the ballgame, you don't need peanuts AND crackerjacks. The crackerjacks already have peanuts. #Colbert"
Or this post from early Friday morning:"Am I the only person who thought @MLB was the twitter handle of Matt LeBlanc? #Colbert"
The host vacillated from novice to superfan.
"Well, I've exhausted my baseball knowledge. On to pole vaulting! How about Chelsea Johnson taking the silver in the '09 Worlds? #Colbert," he wrote right after posting his first @MLB tweet.
Apparently his knowledge had improved by Friday afternoon, when he tweeted, "Go Tiburones de la Guaira! Oh, do you guys not follow the Venezuelan league? Sorry, I thought I was tweeting to real fans. #Colbert"
The Comedy Central host didn't miss the chance to cash in on the opportunity.
"Looking for the latest in pitching stats? Go to http://atmlb.com/oYK4d3 right now! #Colbert" he tweeted. It may have been a legitimate question, but the link redirected users to his Colbert Super PAC page.
Colbert won the right to takeover MLB's Twitter page earlier this summer. In June, MLB challenged the comedian to go head-to-head with the league in its 'Beat the Streak" game. At stake: Control of MLB's Twitter account for 24 hours. Colbert bested MLB on the second day of their competition, locking up the rights to take over the league's tweets.
Colbert has control of the account until 11:59 p.m. ET, but MLB already has seen a bump from Colbert and his 2.5 million Colbert Nation followers -- jumping from under 1,405,000 followers to over 1,417,000 during the course of the day. The account also saw a huge bump in #Colbert tagged retweets compared to its average posts.