All-in, A-Rod.
Despite the return of professional football (no, not you, CFL), the week's headlines were stolen by the report that baseball player Alex Rodriguez may have played in a Hollywood poker game where a fight could have broken out and someone might have used some white substance to clear his nose.
Oh, the infamy!
Not likely Mr. Rodriguez suffers more than a tweet from the commissioner's office advising him to hire another dozen publicists to whitewash his off-the-field activities. But it got us thinking about poker. Here are my three favorite short-short poker jokes: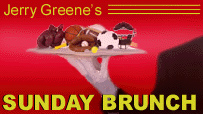 • "I was playing poker with Tarot cards and got a full house. Four other players died."
• "I have two rules for winning poker: One -- Never reveal everything you know. Two -- ...." (Come on, think about it.)
• "I was losing at casino poker and decided to try the crap tables. They threw me out for being too literal."
Also, A-Rod's alleged activities got me thinking about the greatest poker movies. Here's my mini-list:
• 3. -- Maverick (1994) -- Remember when we loved Mel Gibson? And James Garner isn't Maverick in this movie but still steals the flick. Great poker con on a river boat at the end.
• 2. -- Rounders (1998) -- You're probably screaming that this must be No. 1. Tough. Matt Damon is solid, John Malkovich is funny and Edward Norton will always be Worm. And, yes, it really played a role in the outbreak of Texas Hold-Em. Young players love the message of following your calling and going all-in on life instead of protecting your chips. But that's young players.