When Tony Gonzalez overhauled his eating habits in 2007, he didn't intend to leverage his newfound appreciation for healthy food into building a $22 million (and counting) all-natural supplement company. Yet that is precisely the path he eventually took by co-founding All-Pro Science Inc., which offers 12 all-natural supplements ranging from Superfood, a powder containing 15 organic fruits and vegetables, to a daily multivitamin.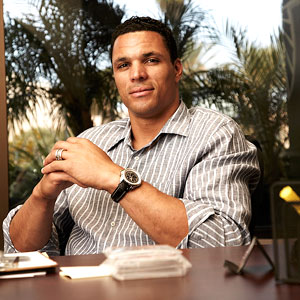 All-Pro ScienceA personal interest in healthy food turned into a personal investment in All-Pro Science for Atlanta Falcons tight end Tony Gonzalez.
APS is well-positioned to take advantage of a growing consumer appetite for healthy dietary supplements with projected 2011 sales of $5 million, increasing momentum toward gaining its 20,000th customer by December, and current and future distribution deals set up with Whole Foods, Lifetime Fitness and Vitamin Shoppe.
A five-time All-Pro tight end for the Kansas City Chiefs and Atlanta Falcons, Gonzalez altered his diet to improve his ability to recover from fatigue and injuries. He was ensconced in his refashioned diet -- organic produce, vegetable protein, wild fish and non-processed food -- in 2009 when he met the man who would become the catalyst toward APS's origin.
While on a vacation with his wife and kids at Red Rock Casino Resort and Spa in Las Vegas in August 2009, Gonzalez was catching up with his friend, R.J. Demman, who was a casino host at Red Rock. Demman was familiar with Gonzalez's eating regimen, which inspired him to introduce Gonzalez to Paul Edalat, owner of Scilabs Nutraceuticals, an FDA-certified nutritional science manufacturer in Irvine, Calif.
Gonzalez told Edalat about the complicated process he undertook to make his own protein powder -- buying expensive brown rice, hemp and pea protein, grinding flaxseeds and mixing it all together. Edalat proclaimed he could simplify that process, implying that Scilabs could manufacture the desired protein powder. Then he surprised Gonzalez by asking him if he had considered producing and marketing a line of dietary supplements similar to what he was making for himself.