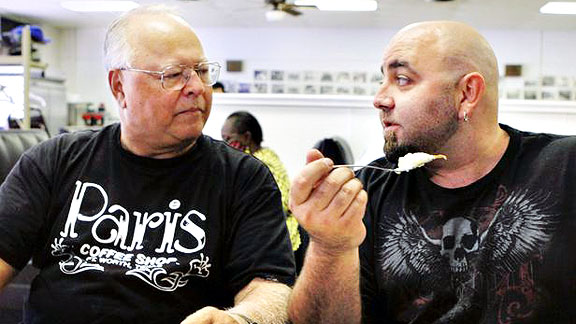 Courtesy of Food NetworkDuff Goldman (right) at Paris Coffee Shop in Fort Worth, Texas, chatting with owner Mike Smith.
Food Network TV pastry chef Duff Goldman has a lot of wants:
1. He wants his new show "Sugar High," which debuts Monday at 10:30 p.m. ET on Food Network, to do well.
2. He wants his new store, Charm City Cakes West in Los Angeles, which opens this month, to do well too.
And, thirdly -- and this might surprise you:
"I'd like to be the Jack Nicholson of the Los Angeles Kings."
Goldman is serious.
"With my Boston Bruins winning the Stanley Cup [this spring], I can die happy," said Goldman, who grew up on Cape Cod in Massachusetts. "So, since I'm moving to Los Angeles and am a huge hockey fan, I want to be at every Kings game."
Goldman has been a travelin' man for years. Born in Michigan and moving from Massachusetts to Virginia, Goldman loves the open road. He hit it big with his "Ace of Cakes" show on Food Network and will host the new show with that same sort of attitude.
"People have to remember that it's food, and food makes us smile," said the 36-year-old Goldman, who has been cooking since the age of 4. "And it's dessert, and that turns you into a 5-year-old. There is no room for stuffiness."
In the six-episode season of "Sugar High," Goldman visits a bevy of sweet spots from diners and snow-cone machines to food carts and boutique bakeries. His stops are Los Angeles, Dallas, New Orleans, Chicago, Boston and Philadelphia.
"There are a lot of good travel shows out there, but there really is no way you can control what comes out of my mouth or how I'm going to behave," Goldman said. "We're just a bunch of cooks acting like idiots and having a good time. There is a lot of impromptu humor."
After graduating from the University of Maryland with degrees in history and philosophy, Goldman studied at the Culinary Institute of America in Napa Valley, Calif., and worked at several acclaimed restaurants. In 2002, he opened Charm City Cakes in Baltimore, where he was able to show off his creativity, and the bakery became a household name on "Ace of Cakes," which aired for 10 seasons on Food Network.
With that success, Goldman and his team are heading to Los Angeles to open a second location of the bakery, Charm City Cakes West, which will open this month.
"Things are great right now. I want to stay unique. I'm probably a better cook than pastry chef, but how many pastry chefs are on the network?" Goldman said. "And I've already started that dialogue with the Kings."