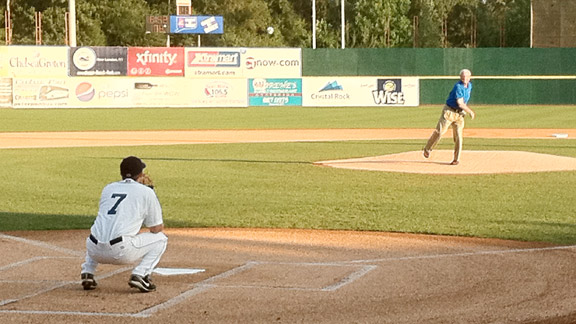 Thomas Neumann/ESPN.comAl Kaline delivers a strike on a ceremonial first pitch to grandson Colin, a Detroit Tigers farmhand.
NORWICH, Conn. -- Al Kaline recorded 3,007 hits and 399 home runs during his 22 seasons with the Detroit Tigers.
He remains the youngest batting champion in major league history, having won the AL crown at age 20 in 1955. He helped lead the Tigers to victory in the 1968 World Series. One of the finest defensive right fielders ever, he became the 10th player to be voted into the Baseball Hall of Fame on the first ballot in 1980.
Still, there are still baseball memories to be made for Kaline, 76, who joined the Tigers' front office in 2001 after working 26 seasons as a broadcaster for the club.
Kaline enjoyed one of those moments Monday, when he threw out the ceremonial first pitch for the minor league Connecticut Tigers to his grandson Colin, a rookie second baseman with the team.
The elder Kaline delivered a strike, drawing cheers from the 2,326 in attendance at Dodd Stadium.
"It's always a special moment when you get to do something like that with a grandparent," said Colin Kaline. "I'm just lucky to get to do it in front of a lot of people."
Colin, at 5-foot-10, 150 pounds, was picked in the 26th round of this year's draft out of Division II Florida Southern. His father, Michael Kaline, played college baseball at Miami (Ohio). Colin isn't as physically gifted as his grandfather, but Al said Colin has inherited the family work ethic.
"His desire is as great as mine, even though he doesn't have the same strength or size," said Al Kaline. "I know how much he loves the game of baseball. For him to get a chance to play professionally is really a great thrill for me, and I know it's a great honor for him."