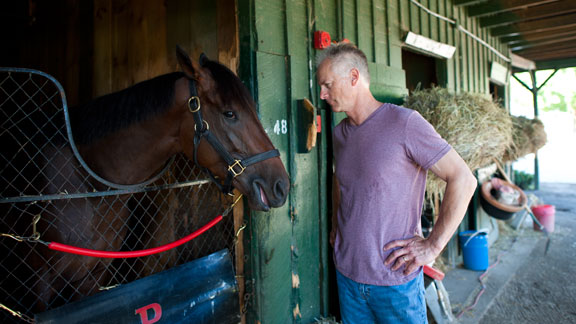 Rob Tringali for ESPN The MagazineNo one watching so I fed this animal peppermints. Twenty of them.
This story appears in the Aug. 22, 2011 issue of ESPN The Magazine.
The last fight I remember getting into was in seventh grade. Dennis Doran and I were below-average basketball players, and we were scrapping at the gym in order to make our mark in a pickup game. Things escalated from there. It wasn't much of a fight, something just short of when relief pitchers jog to the mound from the bullpen and pretend to join a brawl. But still.
So nearly 40 years later, a guy standing two feet away at a restaurant in Saratoga Springs, N.Y., is preparing to take a swing at me. What incensed him was that on TV just one week earlier, I'd had the nerve to say nice things about California's storied Del Mar Thoroughbred Club.
I tried to explain how I felt that it's okay to have strong feelings for both Del Mar and Saratoga, but this guy, as a devout Saratoga fan, felt violated. He backed off eventually -- he'd probably heard of my draw vs. Doran during the Ali-Frazier era -- but his wounds were apparent, because Saratoga is as much a feeling as it is a place.
There's something important going on there, and just by being in town during the 40-day meet, you are a part of it. The racing, which moves north from Belmont Park in mid-July, culminates in late August, when the top 3-year-olds in the country come to Saratoga for the Travers Stakes, aka the Midsummer Derby. As legendary Saratoga rider John Velazquez tells me, "This is where the best horses, best trainers and best jockeys come. And if you want to shine, this is the place."
I'd heard of Saratoga while growing up some 3,000 miles away in Seattle. It seemed a distant, mythical place. The kind of place where Seabiscuit raced. The kind of place Carly Simon referred to in song. Horse racing's Hall of Fame is across the street, for goodness' sake, so it had to be a big deal. And it's been so for a long time. The war between the states was raging when Saratoga opened in 1863, and the North deserved one hell of a track.