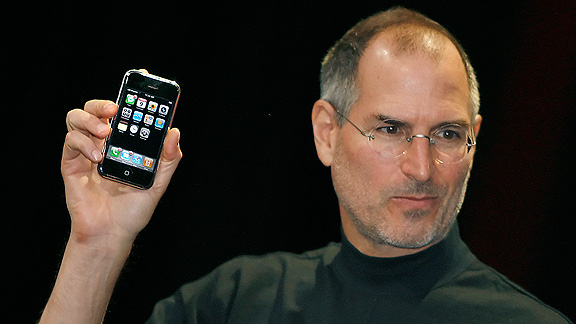 Tony Avelar/AFP/Getty ImagesSteve Jobs introduced Apple's new phone in 2007 to much skepticism, and that worked out OK.
Rex Grossman is crazy.
... or is he?
Yes, the much-mocked quarterback is getting lampooned once again, this time for saying his by-all-accounts-iffy Washington team will win the NFC East.
But what if he's right? What if Rex is really Gross-tradamus?
It won't be the first time an underdog made an outlandish prediction -- and it came true.
Here's the top 10 (for now...):
10. Chad Johnson vs. Houston Texans
Would you really want credit for this one? With his Bengals winless through seven 2002 games, the outspoken wide receiver declared his group would avert further embarrassment ... by beating the expansion Houston Texans. They did, 38-3. Still...
9. Getafe vs. Relegation
One point to the good but staring at a difficult road match, Spanish first-division club Getafe seemed doomed to be relegated at the end of 2008-09. But forward Roberto Soldado was "convinced that we will stay in La Primera." They remained, and this is important -- after all, if they'd gone down, Getafe might not now be serenaded by a sad koala.
8. The "GuaranSheed"
After an ugly loss to the Pacers in Game 1 of the 2003-04 playoffs, the road-bound Pistons seemed destined for an ouster. But that always-quotable Rasheed Wallace delivered a guarantee ("put it on the front page, back page, middle page, wherever"), and the New Bad Boys backed him up, beating the Pacers in six games. They eventually knocked off the Lakers for their first title in 14 years.