Welcome back to another edition of Page 2 Jeopardy!, the quiz that tests your knowledge of sports, pop culture and assorted trivia. Please remember to phrase your responses in the form of a question.
(Correct questions at the end of the quiz.)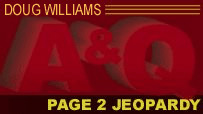 1. Answer: When he was a boy, this All-Star outfielder -- called "kinda unorthodox" by his manager -- was threatened with piano lessons by his father as an incentive to work harder on the diamond.
2. Answer: In 1976, he hit "the shot heard 'round the world" on the 18th at the Atlanta Athletic Club -- site of this week's PGA Championship -- to secure a U.S. Open victory.
3. Answer: This NFL running back's Twitter profile reads: "I am that I am, I am not the body, I am not the emotions, I am not the thoughts. I am the soul, I am one with God, I am one with all."
4. Answer: Former UCLA basketball players Russell Westbrook, Kevin Love, Trevor Ariza and Baron Davis are all doing the same thing this summer and fall.
5. Answer: He was caught on YouTube dissing a young fan who wanted his autograph after the Reno-Tahoe Open, but then apologized and launched a search via Twitter to find the boy and apologize in person.
Question 1: Who is Hunter Pence?
Question 2: Who is Jerry Pate?
Question 3: Who is Ricky Williams?
Question 4: What is going back to college?
Question 5: Who is Pat Perez?