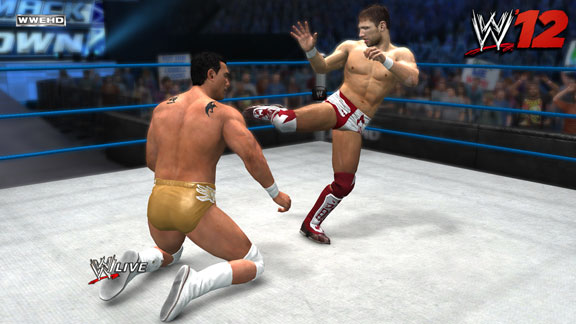 THQThe first image of Daniel Bryan in THQ's upcoming video game, "WWE 12."
I can watch the footage of Daniel Bryan choking out ring announcer Justin Roberts with a necktie all day, and the almost cartoon-like reaction on Roberts' face still never gets old. Unfortunately for Bryan (real name Bryan Danielson) and his fans, that move not only cost Bryan his WWE job for a few months, but it also cost video game players the opportunity to play as the submission specialist in "WWE Smackdown vs. Raw 2011" as publisher THQ was forced to remove Bryan from the Nexus download pack and replace him with Justin Gabriel.
But now Bryan is not only back in WWE, he's promising to cash in his Money in the Bank contract at Wrestlemania XXVIII, guaranteeing his spot in a championship match on a card that will also pit current WWE poster boy John Cena against maybe the greatest showman of all time, The Rock.
Until then, video game fans will finally be able to get their hands on Bryan (at least virtually) as he is set to star in THQ's latest brawler, "WWE 12."
As for his character in the game, Bryan has only two wishes: "I'm hoping he does a lot of submissions," he says, "and I'm also hoping he can do my run up the turnbuckle back flip."
If only there was a secret code to choke the ring announcer.
Jon Robinson: What's it like to be in your first WWE video game?
Daniel Bryan: I'm really, really excited. I don't play a lot of video games, but I started playing a little more recently because the guys on the road are always bringing their Xboxes with them. And seeing the new WWE video games, man, they're so cool because I haven't played video games since I was a little kid, so when I play "WWE All-Stars" and I see the graphics for all of these characters, it's just unreal. I really can't wait to be in my first video game.