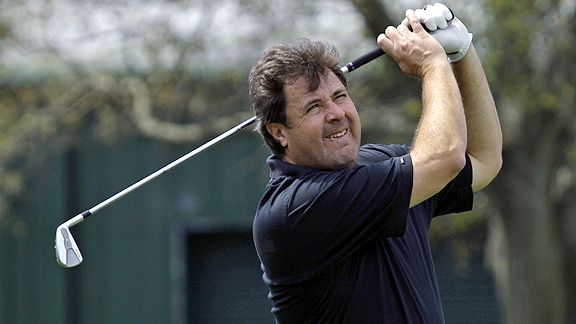 AP Photo/John RaouxCountry legend Vince Gill loves playing golf and wants to play the U.S. Senior Open.
Country singer Vince Gill will celebrate 20 years at the Grand Ole Opry Saturday night, and for a warmup, he took his two best friends -- his guitar and golf clubs -- down to Georgia, for a short concert before the PGA Championship.
The 20-time Grammy winner is a scratch golfer who headed to Nashville all those years ago because of his wobbly short game.
"My putter made me a real good guitar player," Gill confessed to the hundreds of blazered club pros who crowded the Cobb Energy Performing Arts Centre.
The PGA gave Gill its 2003 Distinguished Service Award for The Vinny, (slogan: "Country's First Major"), his annual tourney that funds junior golf in Tennessee. The same prestigious award went to three-time major winner Larry Nelson after the concert ended.
Between songs, Gill joked about his waning career, receding hairline, expanding waistline -- and wife Amy Grant. "I've been riding my wife's coattails for 11 years and it's worked pretty good for me."
Mostly Gill talked golf. He invoked Tiger Woods' former caddie by introducing keyboardist Pete Wasner: "He's my Stevie Williams, but he don't talk to the press."
Gill said he got his bad temper from his dad, "the only guy to get really mad over a practice swing." The reason golf clubs have grips, Gill said, "is so you can throw 'em."
At 54, his dream is to play the U.S. Senior Open. At a recent qualifier, "I asked the starter, 'Is throwing up on the first tee a penalty?'" Gill said. He finished fourth, a few strokes short.
But there's always another song, another round. Saturday kicks off his tour for his new four-disc album, "These Days." For any pro who left a business card, Gill promised to trade concert tickets for greens fees.