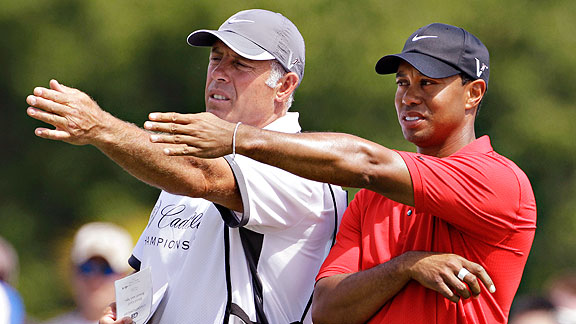 AP Photo/Lynne SladkyWhat if things were reversed and Tiger Woods was caddying for Steve Williams?
Somewhere there is an alternate universe in which the NFL is a four-team league where quarterback JaMarcus Russell makes 500 bucks a game, LeBron James has led Cleveland to the last three NBA titles. and the biggest sport in America is the PCA Tour.
That's right -- the Professional Caddies Association.
Let's listen in to Sunday's final round of the PCA Championship with retired Caddy Damon Green doing the play-by-play:
"All eyes are on six-time MVC winner Stevie Williams as he checks the distance and wind before the all-important choice of his next club. It looks like he's reaching for his 6-iron but, wait! Some spectator clicked his camera just as Stevie was reaching for the club! Oh, the shame.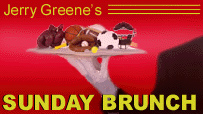 "And now it looks like Stevie's designated club-striker, Eldrick Woods, has grabbed the spectator's camera and thrown it into the lake! Good man , Eldrick, who always has Stevie's back. Stevie will be the first to tell you that a great caddy is only as good as his designated ball striker. After all, that's why they get 10 percent of the caddy's winnings."
See, it's all about perspective. Right, Stevie? Perhaps you're living in the wrong universe.
And now for a few more tidbits from the week that was while our literary chefs put the finishing touches on today's Brunch.
• Did you see that the Green Bay Packers gave a share in the team's ownership to President Obama? That's the best financial news he's had this year.
• Warning! Warning! Brett Favre actually said: "I probably can throw 'til I'm 80." Quarterbacks in Miami, Cincinnati and Washington are on Full Favre Alert.
• Newest game that's sweeping the nation: "Where in the World is Carlos Zambrano?"
• Next year you may see a lot of kids with shirts that read: "My parents went to the 2012 London Olympics and all I got was this Kevlar vest."
• And if you are looking for irony, England's men's national soccer team had to cancel it's "friendly" against the Netherlands "due to escalating violence."