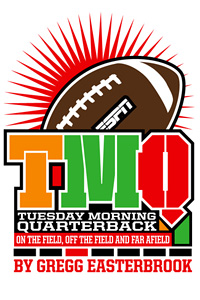 Football may be back, but it's not official until Tuesday Morning Quarterback returns.
And appropriately enough, it returns on Tuesday, in the morning. Among the highlights:
• TMQ's annual review of offseason lowlights.
• J.J. Barea's candidacy for TMQ Person of the Year
• The NCAA and Ohio State
• An update on "Spider-Man: Turn Off the Dark"
• And, of course, more football than you can handle, beginning with TMQ's take on the new rules changes and the players who have complained about them. He's looking at you, James Harrison.
So consider yourself warned. Reschedule your meetings, carve out some time, because you'll need it.