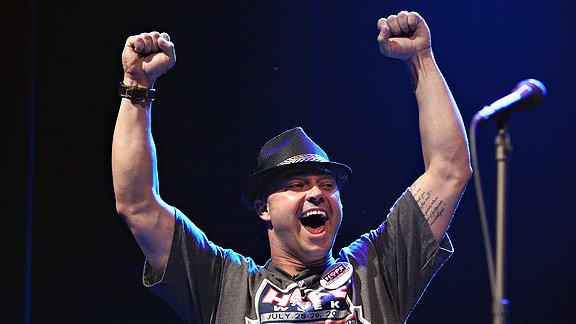 Paul Zimmerman/WireImageNick Swisher brought his infectious laugh to the recording studio for charity.
"Just another day in paradise, bro," Nick Swisher says when he answers the phone.
Whenever Swisher talks, he does so with an infectious giddiness that should be investigated by the American Medical Association; five minutes with him releases more serotonin than any antidepressant around. So it's not surprising that when you hear a ballplayer recorded an uplifting album for kids, the player behind the mic has to be Swish.
Swisher's debut album, "Believe", is a 12-song collection of covers. The power-hitting right fielder taking on everything from David Bowie's "Heroes" to Bill Withers' classic "Lean On Me," the only running theme being that, like the singer himself, the songs are positive and easy to sing. "We tried to find songs that a normal human without that much singing talent would be able to do a good job on," says Swisher.
Providing the backing music are professional studio musicians who usually roll with the likes of John Mellencamp and Phil Collins, as well as cameos from fellow ballplayers/guitarists Bernie Williams and Barry Zito. But it's his unique crew back-up singers that has Swisher beaming. "Wait until you hear the way the children sound." On every track, a group of eight- to thirteen-year-old children from the music education program "School of Rock" lend support with backup vocals. With everything else in place, Swisher's job, as he put it, was just warming up his voice and "rocking out from there."
A portion of the album's sales go to Swish's Wishes, a charitable foundation that helps lift the spirits of children dealing with health issues. But with even the most-altruistic efforts, you'd imagine that releasing something so unabashedly positive would result in some gentle ribbing in the Yankees clubhouse. Maybe he was hitting those high notes a little too well? "It's been nothing but positive," says Swisher. "It's shocking, because you know how locker rooms can be."