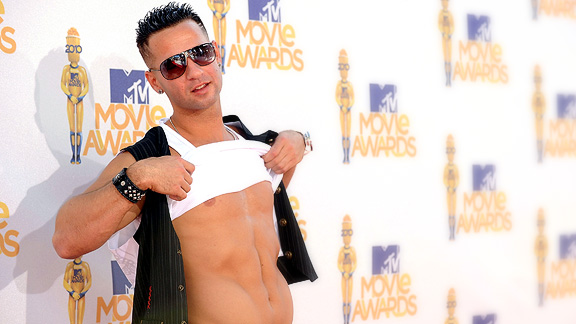 Jason Merritt/Getty ImagesMike "The Situation" Sorrentino is being asked to stop wearing Abercrombie & Fitch underwear.
The Indiana Pacers once paid Jamaal Tinsley essentially to stay home. But that wasn't quite as crafty as Abercrombie & Fitch, which reportedly is offering Mike "The Situation" Sorrentino money to ... stop wearing its clothing.
That's revolutionary. And it might indeed spread to sports, as Page 2's (highly un)reliable sources have leaked to us a few things that could happen in the coming days:
• Although they suspended him without pay, the Chicago Cubs give Carlos Zambrano money to wear St. Louis Cardinals gear while he's away.
• A collection of NFL players buy Roger Goodell a nice, brand-new "NBA" hat.
• MLB hitters buy Roy Halladay a new glove. For his right hand.
• Rex Ryan pays Brett Favre to go to the Dolphins. Just for fun. (And for Favre's 2010 performance.)
• Columbus' infamous tattoo parlor pays Ohio State players not to wear jerseys this year. Classic advertising.
• The Buckeyes counter by offering those players free grad school to wear Greenman suits while playing.
• Adidas pays rioters to, you know, stop wearing adidas while rioting.
• Tired of the distractions, Kyle Orton pays for Tim Tebow's next philanthropic effort -- as long as it's during the season. Denver responds with a media guide cover showing both quarterbacks -- one with a football, the other with a shovel -- that reads: "Broncos 2011: On a mission."