On Saturday, actress Claire Coffee has to disregard her love for the San Francisco 49ers and pick the best players for her fantasy football team.
"I can't be sentimental," said the star of TNT's courtroom drama "Franklin & Bash," who was born in San Francisco. "I might pick tight end Vernon Davis and that'd be it. Everything is about winning."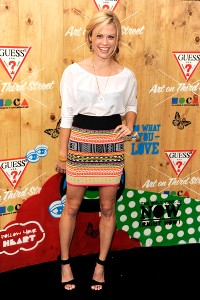 AP Photo/Chris PizzelloActress Claire Coffee is primed and ready for her fantasy football draft Saturday.
Coffee, who has been acting for nine years, isn't just a fan of fantasy football. She cohosts a fantasy football web show on Stupidforfantasyfootball.com, and she is a contributing writer for Hellogiggles.com (Zooey Deschanel's website), where she breaks down the sport.
"I grew up in a football household and the 49ers were religion," said Coffee, who grew up in Monterey, Calif., and went to Santa Catalina School for Girls. "When I went to Northwestern for college, I sort of lost touch with them and focused on college football. Now that I'm back on the West Coast, I can argue about the NFL again on Thanksgiving!"
With the city of Los Angeles pushing hard to attract an NFL franchise to play in a to-be-built facility downtown, Coffee is ready.
"I don't see us as a big football town right now, but there are so many transplants that I think we will be soon," she said. "The Lakers are here, but they are so Hollywood. And have you been to a Dodgers game? No one is there."
Coffee is prepared for Saturday's draft, and she has a new team name.
"Last year, I was known as the 'Bronson Bugs' because I live in Bronson Canyon and I love insects. My parents called me 'Bug' when I was little," she said. "Now I'm known as 'Snacks.' That's self-explanatory."