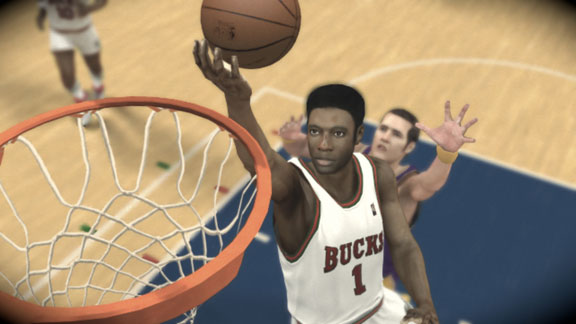 2K SportsOscar Robertson is just one of 15 legends playable in "NBA 2K12."
John Stockton's short shorts just got even shorter. That's right, when 2K Sports artists were rendering the exact look of the legends in "NBA 2K12," a few adjustments were made to make the game feel even more authentic. But 2K Sports didn't stop with John's virtual thread count as they not only went out and made uniform adjustments, they actually recreated matchups from the 1960s complete in black and white and factored in all of the actual rules changes depending on the year, not to mention all of the sweet signature animations and shot packages that they added to capture every move in Pistol Pete's arsenal.
So it's no wonder that, even with the NBA locked out, "NBA 2K12" is my most anticipated sports video game this year. And why not? After selling over five million copies of "NBA 2K11" becasue of the nostalgia (and hang time) of Air Jordan, 2K Sports is going all out to top themselves by adding 15 legends into the game this year, each against their most memorable opponents as gamers try to relive the magic that was the "Showtime" Lakers against and the Boston Celtics, and the "Bad Boy" Pistons against the Chicago Bulls (complete with hard fouls).