The greatest team that ever stepped onto a diamond is playing its last game this weekend. And I'm not talking about the New York Yankees (unfortunately).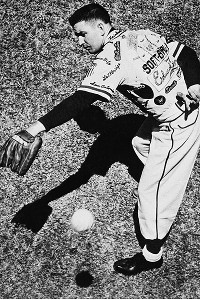 AP PhotoEddie Feigner formed the King and His Court more than 14,000 games and 4 million miles ago in his hometown of Walla Walla, Wash.
Sadly, I'm talking about the King and His Court, the barnstorming softball team started by the late Eddie Feigner some 65 years ago. Feigner died in 2007, but his team has continued on without him, like the Glenn Miller Orchestra or Lynyrd Skynyrd (roughly three dozen players have played for the Court over the years). If you haven't seen the King and His Court, well, it's your own damn fault. The Court has been around since the Chicago Cubs still were the reigning National League champs, and it has played in nearly 4,000 cities and in more than 150 countries. Starbucks won't go to towns the Court does.
But the 65-year tour of duty ends Saturday night in Feigner's hometown of Walla Walla, Wash., playing a team that includes former major leaguer Jeff Cirillo, a two-time All-Star and five-time .300 hitter. Good luck, Jeff. You'll need it.
"I just wanted to return the van keys to Walla Walla where it all came out of," said Rich Hoppe, who has been pitching with the Court for three decades. "I wanted to recognize in his birthplace that something so special happened. In an era where guys refuse $100 million because it's disrespectful, this is about guys who carried their own bags, washed their own laundry -- and at very steep price tag to their families. It will end where it should. We're going to go up to the birthplace and bring it on home."
The King and His Court got its start the way so many wonderful sagas begin -- in a bar. According to legend, Feigner was bragging up his skills one night when an opposing player challenged his abilities. Insulted, Feigner bet the guy he could beat his team with just four players -- himself, a catcher, a first baseman and an infielder. Feigner was confident he could win with only himself and a catcher but worried the other team would just walk the two and leave them without a batter. Which is why the King always had four players.
You can see highlights of the King and His Court from about 50 years ago here and a news report from about 15 years ago here.