Check out that pose by celebrity chef Robert Irvine.
That dude turns 46 years old in a few weeks and is proud that he's remained in shape, despite being around rich, delicious food 24/7.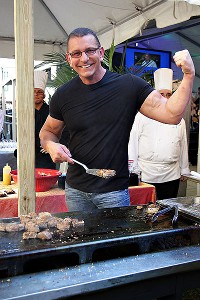 Bill McCay/WireImageRobert Irvine works out every day and eats every two hours.
On Wednesday, Irvine starts the second season of his wildly successful "Restaurant: Impossible" show on Food Network. In each episode, he's given the mission of renovating a failing restaurant. With the assistance of designers, Irvine can spend only $10,000 and must be finished redesigning the menu and renovating the restaurant in two days.
"There is huge appeal for the show because it's real emotion," said Irvine, born in England. "I'm here messing with people's lives. The show is happy, sad, frustration and anger. I go in there and hope to bring everyone together."
Irvine began his cooking career upon enlisting in the Royal Navy at the age of 15. Having completed culinary training, he served aboard Her Majesty's Royal Yacht and then worked at the White House and various cruise ships. He started on Food Network with "Dinner: Impossible" before his current show.
His style has always been a little brash, which is one of the appeals of the show.
"It's really me on there," Irvine said. "I do have a sensitive side, even though it might not look it. I have two daughters so I need to remember to be more understanding."
And for Irvine, when he travels across the country to tape his show, he requests that the hotel be close to a gym. He eats every two hours and works out every day. In fact, in 2007, Men's Fitness magazine selected Irvine as one of the "25 Fittest Guys in America."
And in the spring, Irvine will be marrying Gail Kim, a professional wrestler working for the WWE. They met on the set of "Dinner: Impossible".
"I love working out. It's my release. I've done it since I've been in the military," Irvine said. "Would I consider wrestling? Maybe with Gail. But she can beat the hell out of me, I know that."