Welcome back to another edition of Page 2 Jeopardy!, the quiz that tests your knowledge of sports, pop culture and assorted trivia. Please remember to phrase your responses in the form of a question.
(Correct questions at the end of the quiz.)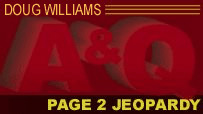 1. Answer: He's a comic and former college soccer player with a dog named for ex-Met Art Shamsky who once was booed when his ceremonial first pitch at Shea Stadium bounced in front of home plate.
2. Answer: This small Midwestern college affiliated with the Mennonite church has decided to play "America the Beautiful" at its sports events rather than "The Star-Spangled Banner" because it better fits with its pacifist traditions.
3. Answer: After his team broke a six-game winless streak on the same day a rare temblor shook the East Coast, this NL manager said, "I'm going to call for another earthquake."
4. Answer: This NFL coach professed his love for the music of Lil Wayne this week, but says he's "versatile" and listens to everything from Barbra Streisand to the Foo Fighters and Bobby Vinton.
5. Answer: He's an NBA player who's been in the spotlight recently but gained his first attention in the pool, winning several under-10 national swimming titles and finishing second to Michael Phelps in a few others.
Question 1: Who is Jon Stewart?
Question 2: What is Goshen College?
Question 3: Who is Kirk Gibson?
Question 4: Who is Todd Haley?
Question 5: Who is Kris Humphries?