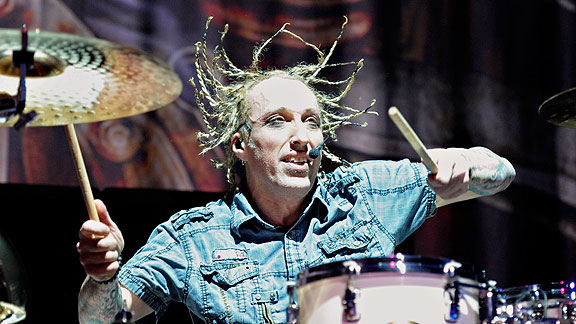 Ethan Miller/Getty ImagesMorgan Rose of Sevendust is anticipating the release of "Madden NFL 12," which hits stores Tuesday.
Morgan Rose, the drummer of Atlanta-based band Sevendust, is playing a concert Monday night in Lancaster, Pa., and then the metal group is off Tuesday before heading to the Uproar Festival in Washington, D.C., on Wednesday.
That means, on his travel day, Rose can buy "Madden NFL 2012" and spend all day on the tour bus playing it; the game will be released Tuesday.
See, Rose is addicted to video games. Sports games, in particular.
"I have a horrible case of ADD and I can't sit still, so I play a game either on my PSP, Playstation 3 or even my phone," said the 42-year-old Rose, who has been drumming with the band for nearly 20 years. "My girl is totally freaked out by it. Even when there is a commercial on TV, I start playing a game on my phone. Yeah, I know it's crazy."
For Rose, playing sports games isn't just an obsession. Growing up, Rose always wanted to play pro baseball.
"But I felt I was too small at 5-feet-9 to play my favorite position of shortstop, so I decided to get into music," Rose said. "Who would have known that today, there are athletes like David Eckstein and Dustin Pedroia that size!"
So Rose got into music and he and Sevendust have released eight CDs, and are touring off their latest release "Cold Day Memory." Rose often has been voted the No. 1 drummer in metal.
And because Rose still loved baseball, and athletes have always wanted to be rock stars, Rose has become friends with many in the game, including Chicago Cubs pitcher Kerry Wood and New York Yankees outfielder Brett Gardner and pitcher A.J. Burnett.
Rose even was a groomsman in Johnny Damon's wedding, and the band played the reception.
"They're my boys," Damon told The Boston Globe. "We partied like rock stars."
Rose will be doing his own partying Tuesday with the release of Madden as his tour bus heads to Washington.
"I'm ready to see all the rookies. I go straight to playing with all of those guys first," Rose said. "I need a longer break!"