U.S. women's national soccer team goalkeeper Hope Solo has watched ABC's "Dancing with the Stars" for years but never thought her schedule would allow her to do it.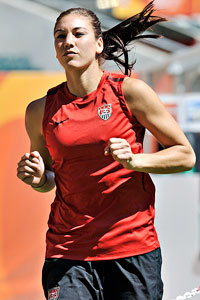 AP Photo/Martin MeissnerMaksim Chmerkovskiy campaigned for Hope Solo to join him on "Dancing with the Stars."
Until this fall.
Solo is paired with pro dancer Maksim Chmerkovskiy in the 13th season of the show, which premieres Sept. 19.
"I saw that Maks had gone on ESPN's 'SportsCenter' trying to recruit me a few months ago, but I was focusing on the World Cup at the time," said Solo, who was instrumental in the team's runner-up finish. "When I came back home, I looked at my schedule and I see no reason why I can't do it."
Solo knows a lot is riding on her as athletes have done very well on the show. Seven athletes, including Pittsburgh Steelers wide receiver Hines Ward in the spring, have won the mirrorball trophy.
And Solo, 30, of Richland, Wash., has an added pressure.
"I have absolutely no dancing ability," she said. "Thankfully, Maks will direct me perfectly."
Solo and the other athlete, Los Angeles Lakers forward Ron Artest, will be joined on the show by reality TV stars Robert Kardashian, Kristin Cavallari and Chaz Bono; TV personalities Nancy Grace, Carson Kressley and Ricki Lake; singer-actress Chynna Phillips; actors David Arquette and J.R. Martinez; and Italian actress Elisabetta Canalis, who may be better-known in the United States for being actor George Clooney's ex-girlfriend.
"I know the nerves are going to get to me. I'll need to do that on the dance floor, tuning out the lights, cameras and audience," Solo said. "That's how I do it on the soccer field."