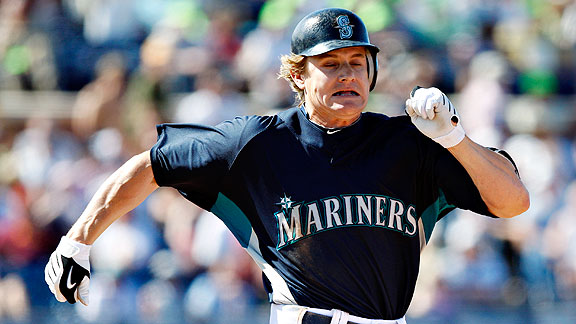 AP Photo/Lenny IgnelziEric Byrnes walked away from baseball and right into his next chosen profession.
It goes back to eighth grade for Eric Byrnes, and that classic essay topic: What do you want to be when you grow up?
Choice No. 1, Byrnes wrote: Pro athlete -- which he pulled off by playing outfield in parts of 11 major league seasons, even picking up some 2007 MVP votes while with the Arizona Diamondbacks.
Choice No. 2: Broadcaster -- he's doing that, too. Byrnes hosts sports shows on KNBR in his native San Francisco Bay Area and works as an analyst on MLB Network.
"When it comes to talking sports and debating topics," Byrnes said by phone Wednesday, "that's what drives me."
Byrnes' latest venture: Guy talk, on FUEL TV's "Master Debaters," hosted by comedian/sports fan Jay Mohr, debuting Sept. 7.
To the ex-ballplayer, doing the show -- which features panelists Byrnes, Mohr and comedian Na'im Lynn, plus a guest (for example, Ron Artest/Metta World Peace), debating topics such as women and music -- was "a no-brainer."
"A lot of these discussions ... I've already had them," Byrnes said. "I've had them with my buddies sitting around a bar, or I've brought them up on the [radio]. It's almost like 'The View' for guys."
Only a lot more irreverent -- you did notice the name, right? -- with Byrnes revealing a moment in which former NHL star Jeremy Roenick impersonates Meg Ryan in "When Harry Met Sally" (if you know the movie, you know the scene).
Added Byrnes: "I'm very thankful that they have a bleep button."
Not that he runs from an unconventional opinion on the show, which taped 10 episodes ("Where it's going from here," Byrnes said, "I have no idea"). Seen in this teaser is the task of ranking -- in order of lameness -- bands Coldplay, Black Eyed Peas and Nickelback.
Byrnes likes all three. And admits it. Proudly.
"I'm not going to sugarcoat anything," he said. "Literally, this is how I feel."
And apparently it's been that way since at least junior high.