Violations. Arrests. Suspensions.
Yeah, Archie Manning knows what's going on in college football these days.
"We're getting kicked around a little bit," the former college and NFL quarterback and current chairman of the National Football Foundation said by phone Wednesday.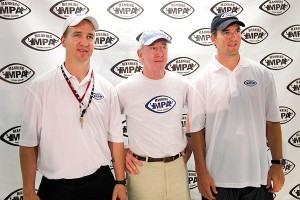 AP Photo/Gerald HerbertArchie Manning, with Eli (right) and Peyton Manning (left) at the Manning Passing Academy this summer, still sees the positives in college football.
But all hope isn't lost to Manning. Not when, as he sees it, an increasing number of college coaches are performing community service.
"I think there's more of that today," he said. "Back in my day [he played at Ole Miss in the late '60s and early '70s], there were great coaches ... people like Bear Bryant [Alabama] and Charlie McClendon [LSU] and Ray Graves, who was at Florida, and Shug Jordan at Auburn -- just outstanding coaches.
"But I think I see more now of coaches -- even with their limited time -- not only being more involved in the community [and] more involved in charity work, but getting their players more involved with community service."
That extended, Manning said, to his pair of QB sons, Peyton and Eli. When Eli was at Ole Miss, then-coach David Cutcliffe had the younger Manning mentoring kids. Earlier at Tennessee, coach Phillip Fulmer helped Peyton get into public speaking via youth groups -- the first foray into the field for a guy who still does some motivational talks (plus plentiful appearances as a pitchman).
So the eldest Manning is happy to again be part of the Liberty Mutual Coach of the Year Award -- which Thursday began taking nominations from fans for coaches across all four NCAA divisions (FBS, FCS, II and III), and is designed to recognize program leaders for their efforts on and off the field.
And with all those scandalous stories out there, Archie Manning is hoping the award might push attention in another direction, especially when the winners are revealed in January.
"I know we read about guys that get in trouble and we read about scandals and unfortunately everything that's going on in Miami," Archie Manning said. "[But] we've got a lot of coaches who are doing it right."