We pride ourselves at the reader-generated Top 10 list for being topical and on top of the most meaningful concerns in the world of sports. If it's important, we've got a Top 10 list for it.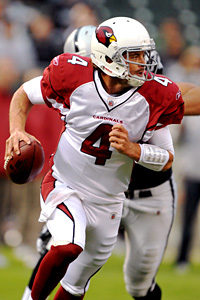 Kirby Lee/US PRESSWIREOne would assume there will be plenty of plays on Kevin Kolb's name on Arizona fantasy teams.
Then, on a lark, we proposed a list that really doesn't reflect the most vital things going on all around us: "Top 10 Fantasy Football Team Names."
Boom! Our email box blew up with more than 400 entries. You may not care much about steroids or corruption or lockouts, but you love yourselves some fantasy football.
Oddest league mentioned was the Couch Potato League of Buffalo, N.Y., because every team must be named after a potato, according to John S. My favorite was "Yam What I Yam."
My favorite submission that didn't seem quite right for the actual list came from Guillermo C. of Mexicali, Mexico. His entry was blank. No name at all. His explanation: "This was the Jacksonville Jags entry but its name has been blacked out."
Cruel, Guillermo. Cute -- but cruel.
Enough. Let's get to the list:
Top 10 Fantasy Football Team Names
10. "Korn on the Kolb," by Matt H. of Indianapolis.
9. "Burressted Development," by Massawar A. of Queens, N.Y.