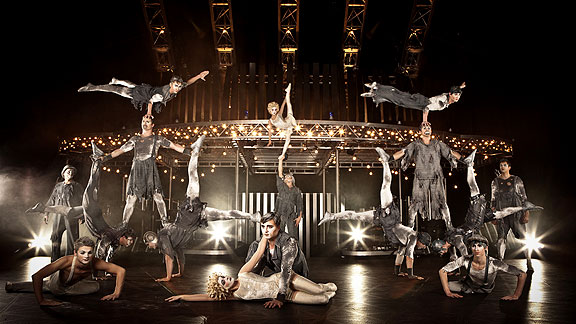 Cirque's 'Quidam' World Of Wonder in Hartford"Quidam" has a number of former national and Olympic athletes. And Cirque is looking for more.
How about this for an audition description:
"Be prepared to showcase your best skills on one or more of the following apparatus: fast track, tumbling, high bar, parallel bars, rings, uneven bars and trampoline."
That's not a typical job.
But that's what it takes to be one of the more than 1,000 performers who put on the 20 or so shows worldwide of the Canadian-entertainment giant Cirque du Soleil.
And on Sept. 17, in Henderson, Nevada, Cirque is looking for more athletes. Not just any athletes, mind you.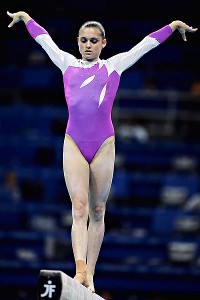 Clive Brunskill/Getty ImagesLisa Skinner of Australia competes in the 2004 Olympics.
"You don't have to be a perfect performer. You don't have to be a champion to be success in Cirque," said Mireille Goyette, who is a trainer and performer in "Quidam," which hit Hartford, Conn., this week. "But you have to show flexibility, strength and a good personality. This definitely is an athletic competition. That's how we view our acrobats."
Based in Montreal, Cirque was founded in 1984 by two former street performers, Guy Laliberté and Daniel Gauthier. Each show is a synthesis of circus styles with its own theme and storyline. With traveling shows and stationary shows in various cities, Cirque brings in more than $850 million a year.
And former college and professional athletes are a good number of performers in each show. In fact, more than 20 former Olympians are working throughout the world. In the stationary show of "O" in Las Vegas, there are about 10 Olympians performing. Suzannah Bianco, who won a gold medal in synchronized swimming at the 1996 Atlanta Olympics and was a four-time U.S. champion, joined "O" in 1997.
In Hartford, "Quidam" stormed into town with 52 performers from 18 countries. And there were a handful of national champions and Olympians.
"My experience here has been excellent! I have been here for five years now and loved every second of it," said Lisa Skinner, who represented Australia in gymnastics in the Olympics Games of 1996, 2000 and 2004. "They have [talent] scouts that go to our competitions and they've asked me to join a couple of times. I said, 'Yeah, let's see what this could be like.'"
It's not all about what athletes have done in the past.
"We work really hard to showcase the show and not the individuals," said Jessica LeBoeuf, who has been a Cirque publicist for 10 years. "It's all about a team here. We have national champions and Olympians. But they must come together and work as a team."