Welcome back to another edition of Page 2 Jeopardy!, the quiz that tests your knowledge of sports, pop culture and assorted trivia. Please remember to phrase your responses in the form of a question.
(Correct questions at the end of the quiz.)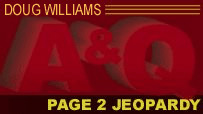 1. Answer: A new, white helmet designed for this college football team, featuring a fiery-eyed horse, was called "Everything you could want in a redesign" by one reviewer, who added: "It looks like the headgear of your starting linebacker, DEATH."
2. Answer: Before he was a dad on two TV series and a reality show, he was an all-conference defensive end in college and played in the NFL for six seasons.
3. Answer: Located in right field about 430-plus feet from home plate at Safeco Field, this eatery has been infrequently reached, but has been hit by blasts from the likes of Mike Carp, Travis Hafner and Chris Davis.
4. Answer: In high school, he finished second to future Olympic bronze medalist Walter Dix in Florida's state 100-meter championship, but this future NFL star was labeled just a two-star recruit while being pursued by East Carolina, Kentucky and UConn.
5. Answer: This Class A minor league baseball team is named for the states of Delaware, Maryland and Virginia.
Question 1: What is Boise State?
Question 2: Who is Terry Crews?
Question 3: What is the Hit It Here Cafe?
Question 4: Who is Chris Johnson?
Question 5: Who are the Delmarva Shorebirds ?