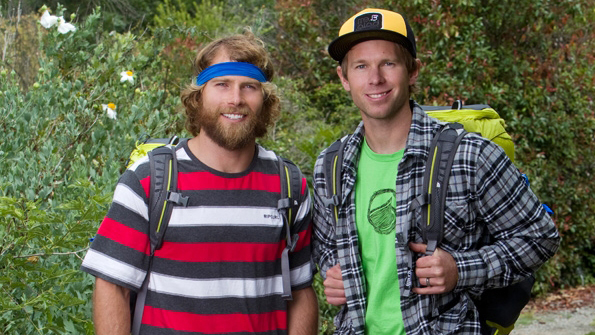 Courtesy CBSAndy Finch and Tommy Czeschin team up to compete on "The Amazing Race" this fall.
Pro snowboarders Andy Finch and Tommy Czeschin will be among the 11 teams competing in the 19th season of "The Amazing Race" when it premieres on Sept. 25, CBS announced Wednesday.
"Tommy and I fully had a list of things that we thought were going to be advantages for us coming in as pro snowboarders," Finch told ESPN. "We definitely have that competitive spirit and that will come through on the show, but I really feel like in other ways we were way off base. Where we thought we were going to be strong, that wasn't always the case -- there were definitely areas where our specific gifts and talents didn't help us much -- and we were surprised to find that we were stronger in other areas than we thought we'd be."
Finch has been sponsored by Shaun Palmer's Palmer Snowboards since 1997. He was the U.S. Halfpipe Grand Prix champ in 2003 and 2004, won silver at Winter X Games in 2005, and also won the 2005 TTR title before competing in the 2006 Olympics in Turin, Italy. More recently he won the 2009 World Heli Challenge in New Zealand.
Czeschin retired from competitive snowboarding in 2009 to run Humanity Snowboards, after a long career including a spot on the 2002 Olympic team, two Winter X medals, and 17 World Cup podium finishes. He recently joined the snowboard coaching staff of Team USA. The two have traveled and competed against each other for more than a decade, and Finch says it took some adjustments to get used to being on the same team.