Welcome to "Lies, Damned Lies and Statistics."
I'm Sarah Phillips, a sportswriter with a West Coast bias.
Like many of you, I had childhood aspirations of becoming a sports star one day. Some people continue reaching for their dreams clear into adulthood. Not me. My parents shattered those hopes while I was in elementary school when they handed me a calculator and a notepad and convinced me that becoming a sportswriter was my ticket into the industry.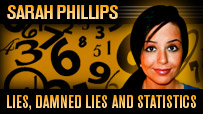 In a nutshell, I'm obsessed with sports from a statistical and point-spread perspective -- for entertainment purposes, of course. Here are some examples:
• You know Auburn went 13-0 to win the national title, but did you know the Tigers went 1-2 against the spread against non-BCS schools last season?
• Oregon fans have reason to be worried this season. Since Florida State lost the inaugural BCS championship in the 1998 season, the runner-up has only averaged 8.4 wins the next season. That's well short of the height required to climb aboard the BCS national championship ride.
• Stanford quarterback Andrew Luck could be headed for a hangover, too. Only four times has a Heisman runner-up gone on to hoist the trophy the following season. So, if history is any indication, don't plan on watching Luck strike the pose at the end of this season.
Each Friday on behalf of Page 2, I'll provide a semi-serious, statistical cheat sheet for the weekend's games.
Hopefully, you'll laugh. You might cry if you actually wager on my picks. Regardless, you'll learn something new to impress your friends.