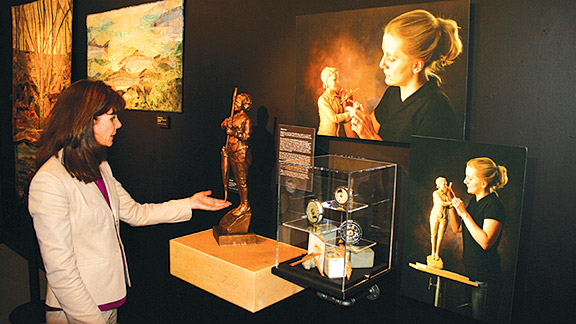 Ryan WhirtyCatherine Comar checks out the work of contemporary sculptor Debbie Elmer at the museum.
How many ways are there to catch a fish? The staffers at the American Museum of Fly Fishing can show you more than 20,000. Most of us might think the lures look like hair on a hook, but to fish, they look like delicacies.
The museum has collected more than 20,000 of these beauties -- the tiny, hand-made lures that anglers use to attract and hook trout and other freshwater fish -- since its inception in 1968. Located in the cozy New England town of Manchester, Vt., the museum also houses more than 1,200 rods and 1,400 reels.
While the sport might look to most of us like an exercise in repetitive casting, people involved in the sport are as passionate about hooking a trout as a quarterback is about hitting a receiver with the perfect pass.
"It's the meditative components [anglers like]," said Erin Mooney, the national press secretary for Trout Unlimited. "It's walking into a stream and finding peace and solitude. You have this experience that takes you to a different place."
Fly fishing has gained popularity since the 1992 release of "A River Runs Through It."
"There is nothing more relaxing than standing in a stream awaiting the strike of a trout," said Jim Heckman, who has been fly fishing for 30 years and is the president of the AMFF's board of trustees. "In addition, there is the challenge of putting the right fly in the right place at the right moment to get that strike."
The museum, which attracts about 4,000 patrons a year, goes beyond its exhibits and tries to be interactive. There is a fully-stocked trout pond out back and visitors are invited to try the signature fly-fishing wrist flick. The AMFF also publishes "The American Fly Fisher," a quarterly journal, and it hosts conferences and workshops throughout the year.
"We're not just this stodgy museum," said AMFF executive director Catherine Comar.