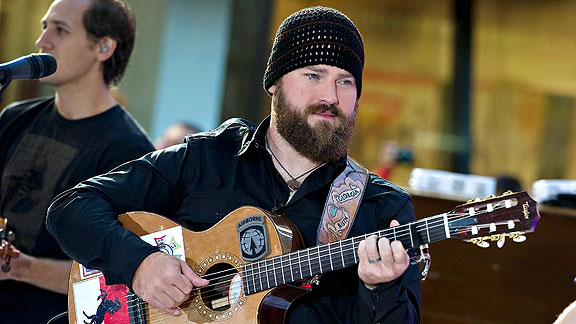 Debra L Rothenberg/Getty ImagesZac Brown would like people to focus on the real reason for Labor Day.
His reaction was a little strange.
Asking country singer Zac Brown about his trademark beard, I mention the names of beard lovers San Francisco Giants pitcher Brian Wilson and "Hangover" actor Zack Galifianakis.
His response?
"Wait, do you maybe have beard envy? It's OK if you do. I understand. I'm just a free spirit."
That's Brown, lead singer of the American southern rock/folk band of his own name based in Atlanta.
"Hey, I'm just trying to be me, with my beard and beanie," he said. "I've always been rebellious. I could easily fall in line with everybody else, but I've always searched for my own identity."
So, when it comes to sports, Brown is unconventional also.
"When I was a kid, I was big into sports -- especially four square. Yeah, I know that sounds kind of silly," said Brown, who has a goal of building a youth camp. "I'm also interested in bigger, mainstream sports. I grew up in Atlanta so I love those teams too."
Brown, with the help of workwear brand Carhartt, is spending the weekend putting the focus of Labor Day back on America's working class. Brown will first shine a spotlight on six of his crewmembers. Then, on Oct. 15, Americans can submit stories and photos of co-workers, friends or family members who they believe are worthy of recognition as part of Carhartt's "Every Day Icon" campaign.
"We need to focus the holiday on the people who are working," he said, "and not just make it about advertisements and sales."